Your vacation has finally arrived! Hopefully, you contacted your super amazing Travel Professional to help you plan the perfect experience. You have shopped for and packed all your new cute travel clothes. Have you made sure to leave your home in good shape so it stays clean, protected and even energy-efficient while you are gone?
Tips on How to Prepare Your Home for Travel
Clean:
Change the sheets – When you arrive home from your vacation, nothing beats collapsing into crisp, clean sheets in your own bed. It's worth the few extra minutes it takes before you leave.
Take out the trash – Nothing could be worse than arriving home to realize you forgot to take out the garbage! Not exactly the atmosphere you want to experience!
Empty out the Fridge – Throw out any leftovers and maybe offer any perishables that won't last to your friendly neighbors. No sense wasting good food, plus you don't want to have to worry about it when you return.
Protect:
Lock all of your windows – It's easy to remember to lock the doors, but be sure all windows are shut tightly and locked. You don't want to come home to puddles of rainwater, or an unexpected intruder!
Be sure someone has a key – find a trusted family member or neighbor and ensure that they have a way in to your home or apartment in case of an emergency. You never know when it could come in handy. This could save you tons of hassles and money should the unexpected happens!
Email yourself copies of your credit cards, ID and travel documents to a web-based email account. Just in case something happens while you are traveling (can you say "pickpockets"?) you can easily access all your important confirmations and details wherever you can get online. Remember to photocopy both sides of your credit cards and insurance cards!
Conserve:
Adjust the thermostat – Be sure to set the air conditioning or heat to an appropriate level to save on energy costs while you are away. Also, you might consider turning down the hot water heater temp as well. You will be very glad you did when you receive next month's utility bills!
Invest in a timer – An inexpensive timer unit from any hardware store allows you to program your lights for security purposes (and energy conservation). Those nasty home stalkers will think someone is home and pass you by!
Unplug any appliances that you can while you are gone (think toaster, coffee maker and office printer). They can be a fire hazard, as well as sucking precious electricity even while you are thousands of miles away on the beach.
By following these suggestions, you can make sure that your next amazing vacation isn't ruined by a nasty surprise lurking inside your front door. It's depressing enough having to return to reality without finding a stinky trash can! Trust me . . . I know!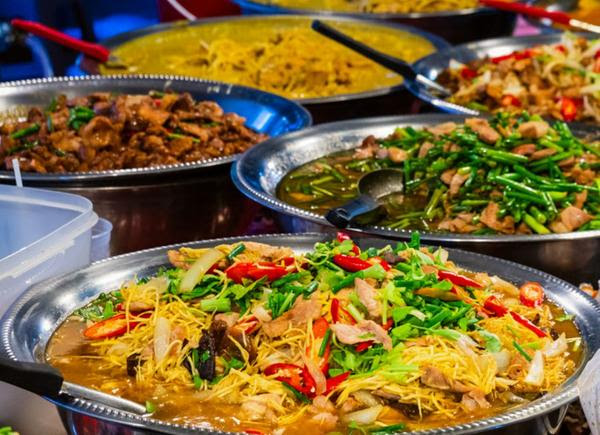 The Definitive Guide to Bangkok's Culinary Success
It's no secret that Thai cuisine is one of the most popular culinary traditions in the world. Here, we take you into the world of delectable tom yum soups, fiery curries and mouthwatering noodles in the streets of Bangkok, one of our favorite foodie destinations, where the world's best fine dining stand alongside celebrated street food and colorful local eateries.
Eat Local: Some of Bangkok's best eats are found at wonderful street-side eateries and market stalls that you won't find in any guide book. Join us for a feast of grilled satay skewers and lemongrass-infused mussels in hidden parts of Chinatown or get in amongst the locals haggling for the freshest coconut and the juiciest mangoes at the Silom morning market. For a more chilled out experience, try one of the city's gourmet food halls like EatThai or the new SookSiam in the glittering IconSiam mall, where you can try a little bit of everything, from crispy coconut noodles to spicy fish curry in a comfortable indoor market-style setting.
Eat with the Stars: With 27 Michelin-starred restaurants, Bangkok is a mecca of culinary excellence where you can feast on a variety of cuisines from around the world. Experience an innovative 25-course Indian menu at the two-starred Gaggan or try the sophisticated Thai creations of Saawaan which features organic rice paddy crab or squid from a fishermen's village. If you're in the mood for something a little more local, head over to Jay Fai, a humble street stall that achieved Michelin fame due to its succulent seafood.
Eat and Learn: If you've ever wondered how the famous Thai papaya salad gets its spice or wanted to know how to make the perfect pad Thai noodles, then we recommend a culinary masterclass with one of the city's best celebrity chefs. Learn the secrets of this ancient culinary tradition from the mastermind who created some of the city's best kitchens at the award-winning Issaya Siamese Club and Namsaah Bottling Trust. This exclusive, hand-on experience is truly engaging for adults and families with children, giving you the insights needed to create delectable Thai meals at home.
Eat Trendy: For contemporary, authentic, local Thai eats, try one of our favorite in-the-know spots around town like 80/20, an upscale hipster bar that serves sinful crispy pork belly with fermented chili sauce alongside excellent craft cocktails. Or try Someday Everyday, where Chef David Thompson transforms his famous fine-dining favorites into hearty, home-style meals. Bangkok Bold serves up delicious curry crab or chili pepper mackerel while Err is our go-to place for its unique, urban rustic Thai cuisine.
The Peninsula Bangkok
Contact Me to Save $100 on Planning Fees