Benefits of Group Travel
You've heard the old quote…"There is strength in numbers". Well, there is also a heck of a lot of fun in numbers, especially when you travel with like-minded and fun-seeking friends and family members. Unless you are planning a honeymoon, anniversary trip, or simply a romantic getaway for two, you might want to consider asking a few friends or family members to join you on your next vacation.
Here are several reasons why it can really enhance your experience:
1) Popular with businesses, non-profit organizations, and clubs, group travel is an ideal choice for those wishing to deepen customer and donor loyalty. I work with many kinds of groups and one of my passions is wine and culinary travel, so if you have a restaurant, vineyard, or a club of like-minded foodies, this type of group travel can benefit you and be the perfect way to differentiate yourself from the competition. Group travel is highly customizable, and I can perfectly tailor an experience to reflect your organization's goals and the interests of your members.
2) A work-related group, such as an Accounting firm, gets away from the stresses of the office at the end of tax season, they get the chance to blow off some steam and make fantastic memories together. That can lead to happiness in the workplace, and even improve the long-term employee retention numbers in the firm. The company that plays together…stays together!
3) Extended families often live miles apart and the average family with children usually has such an incredibly busy schedule that it is often impossible to enjoy each other. It is becoming more and more common for a member of the family – usually a grandparent – to spearhead (and sometimes pay for) a multi-generational family group to get away together. A popular family group idea is planning a custom tour of the family's place of heritage – funded by Grandma. She would rather enjoy the vacation and experience of having all of her children together now than leave them the money later. Cruising is also a very popular extended-family getaway because there are so many onboard activities that appeal to all different age groups. It's a very relaxed and fun atmosphere that allows all ages to have fun and spend time with each other.
4) It's also becoming more popular for groups of friends to get away together. Especially friends who have kids the same ages! How much fun would it be to have the kids all playing together at the beach or pool while the adults enjoy a cocktail and a little adult R&R. If there are older kids involved, they can even take turns watching the younger ones while the grownups go out for a rare childless dinner. There are built-in playmates for both the youngsters and the adults alike! When you book your family's spring break getaway or summer vacation, why not ask your friends or family members who you think might enjoy joining you on your trip? Most of the time, they will be thrilled you asked and you will create so many memories together that will last a lifetime.
So, have I inspired YOU to get a small group together for your next adventure? It could end up being your favorite vacation EVER! It's a true "Win-Win" for everyone!
---
ANTARCTICA BY SEA OCEAN CRUISE MULTI-ADVENTURE TOUR
Walk/Hike, Zodiac, Whale Watch, Kayak, Snowshoe Penguins, Icebergs, Glaciers & Epic Grandeur Antarctica's beauty, mystique and wildlife have long lured explorers and adventurers. Join us on a remarkable sailing voyage from the southernmost tip of the Americas to the frozen domain of the seventh continent, venturing from secluded bays dotted with icebergs to land masses dominated by massive glaciers. This is the bucket-list trip you've been waiting for.
---
HIGHLIGHTS
Discover Antarctica's untamed and mesmerizing landscape on this once-in-a-lifetime trip—on water, land and ice
Kayak amid icebergs and hike and snowshoe in Antarctica's frozen wonderland, taking advantage of active excursions designed for Backroads guests
Explore alongside our insightful expedition team in the realm of incredible wildlife, from humpback whales to gentoo penguins
Venture from the ship aboard nimble Zodiacs to discover pristine spots on land where few others have set foot
Contact Me to Save $100 on the Professional Planning Fee
Are you ready to plan your next group adventure?
Click Here
---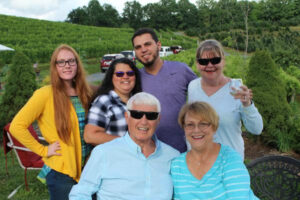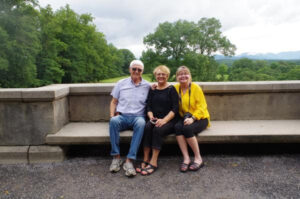 Building Connections and Creating Memories with Family
Spending Time at Linville Falls Winery and Biltmore Estates
Families whose members are geographically separated often find multi-generational trips a good opportunity to reconnect.
This family vacation memory from last summer recently popped up on my Facebook. It was my family's first visit since I moved to Boone. We had fun exploring the High Country together. Me, being the natural trip organizer, planned all of our activities. I rented us a house on Beech Mountain where my son, Aaron, enjoyed time fishing and taking pictures of the plentiful deer roaming. We went river tubing on the New River in Todd, visited Linville Falls Winery, hiked to take in the stunning views of Linville Falls, visited Moses Cone Manor, and lastly visited Biltmore Estates. Of course, we ate at many of my favorite restaurants here in the High Country. We are looking forward to possibly getting together again this fall for another family trip!
It has been revealed that families who continue to travel together in search of experiences will create closer bonds and lasting memories. Connecting with family through travel is a must-have experience.
I will be traveling to Cocoa Beach, FL next week to visit my brother, Farrell. At the end of the week, I will be attending the American Society of Travel Advisors (ASTA) Global Convention in Fort Lauderdale, FL. Follow my journey throughout the week on Savored Moments Travel Facebook page.
Beginning September 18th at 8:00pm on each Wednesday, I will be hosting "Wine Down Wednesday" on the Savored Moments Travel Facebook page! I look forward to wining down with you!
Like Us On Facebook